Hotel Info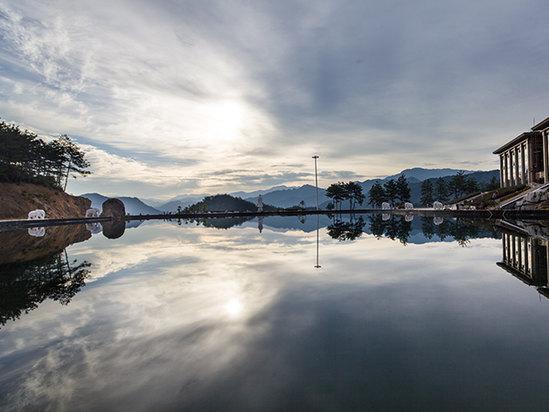 Huangshan Fengda International Hotel
is located next to the Shimenxia Scenic Area in Tanjiaqiao Town, Huangshan District, near the Tanjiaqiao exit of the Hetong-Huanghuang Expressway. The hotel is about a 10-minute drive from the South Gate (Tangkou) of Huangshan Scenic Area. The hotel area has its own scenic drip lake, drip water cave, north-south hiking trails, Dieshui waterfall, Guanyin and Maitreya Buddha statues for guests to play.
The hotel covers an area of 1100 acres. The first phase of the project consists of the Huibin Building, the Guobin Building, the VIP Building, the Yingbin Building, the Conference Center, and the vast world. Modern architecture is perfectly integrated with Damei Huangshan, with multiple guest rooms, chess and card room, KTV, multi-function hall, etc. to meet the needs of accommodation, conferences, catering, leisure and entertainment, vacation, health and other needs.
The entertainment facilities include a hot spring center covering an area of 26,000 square meters and a height of 99.99 meters. The main building has 12 floors. There are food city, tea bar, VR experience hall, 9D interactive cinema, gym, ice and snow roller skating, health spa bubble pool, chess and card leisure, viewing bar and so on. Outside there are infinity swimming pools, high mountains and tsunami halls, children's paddling pools, forest hot springs and so on. The children's area, the adult area, and the elderly are divided into layers to meet the consumption needs of various levels.
The hotel's main restaurant is Huizhou, focusing on Huangshan's local specialty dishes.